Hello again,
I'm so excited to be a part of Ana Spoke's Comedy Book week, giving me an opportunity to read and share some funny books with you.
You can read more about Comedy Book Week on Ana's post.
---
I snapped up the opportunity to read and review Portia Porter's Can you Stiff your Divorce Lawyer – Part 2 because I naturally seemed to gravitate towards it, given my legal background.
Firstly, I must point out how passionate and enthusiastic Portia is about her book and (and how involved she wanted to be in the blogging process- fear not readers, independence has not been compromised!! :))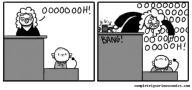 I would describe Can You Stiff Your Divorce Lawyer ("CYSYDL") as essential reading for law students and practitioners alike. Portia recalls the tale of Donny, a charismatic divorcee-to-be with mysterious powers of persuasion. As a rookie lawyer, Portia shares her experiences and challenges with the wonderful benefit of hindsight so you don't suffer the same fate.
"What I did not know in the first days of my Ducklingburg divorce practice was that "too complicated" was not so much an honest assessment of a case, but the industry code for clients with high expectations and shallow pockets, those likely to pay badly and never be happy."
I identified with some of the minutiae of legal proceedings, such as long and often mind-numbingly uneventful periods of waiting around, preparation of courtroom bundles (and becoming a photocopying expert in the process!) and the perils of inappropriate court room fashion. During my time as a law student/ undergraduate, I would regularly attend court on 'clerking' duty and so this book really made me giggle! UK and US judges aren't as different you might think.
The words 'legal' and 'comedy' may seem oxymoronic but rest assured, CYSYDL certainly proves otherwise. I felt like this book was aimed at a US audience but it could appeal to anyone who loves courtroom drama and who finds the hilarity in the 'serious'.
"I was interrupted by a sharp pain in my side. That gave me hope: if I was having a heart attack that would cause me to be rescued from this courtroom by a team of EMTs. Hopefully, I'd die, putting an end to all problems. But that was not to be my fate. The pain was only mechanical: an elbow lodged in my side by my ever-vigilant assistant."
It was hard not to find myself laughing out loud at parts, especially those I could identify with. Porter certainly has a way with describing situations in an eloquently comical way.
I'm not sure if this is a British thing (or a universal pain) but the thought of chasing someone for monies owed makes me shudder slightly.
#awkward!
A great read, (overlooking some small formatting issues) though my only criticism is that I wished there was more about the judge; no spoilers here. You will have to read to find out what I mean.
Read it. Tell your legally inclined friends.
---
Meet Portia Porter
Portia Porter obtained her Ph.D. from The University of Chicago, a law degree from The University of Virginia, and practiced corporate and antitrust law with a top New York Wall Street law firm before opening her own divorce law practice. She practiced divorce law for about fifteen years before finally saying to herself: "You can't divorce them all!"
If you have a divorce-related question that you are afraid to own up to, Portia is the one you should ask.
Portia lives in Ducklingburg, South Duck.
Get in Touch with Portia
---
Coming soon to Leaves et Livres for #comedybookweek
July 22nd – Interview with Portia Porter Esq., author of Can You Stiff Your Divorce Lawyer?
Watch this space…
Check out the Comedy Book Week site for details of all upcoming events during the funniest literary week of the year…probabl